Feeling shy? We know that starting a conversation with someone online can sometimes be daunting. Here's our guide to making contact and some tips on taking things further.
Who's the one for you?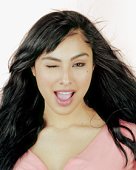 The beauty of online dating is that you get to decide: who, when and where. It gives you the freedom to pick out the profiles that attract you, choose when to get in touch and what direction the relationship will take. Make sure you carefully read all the profiles that interest you. Once you've found someone who seems to have that spark, it's time to make your move.
Engage in conversation
People like to be flattered. If they think you've taken time to study their profile and digest the information, they will respond favourably. Try to pick something unique about them and bring it up in your email. This will grab their interest and give them something to talk about when they reply. For example, "Hi, I see that you collect modern art. I love painting! How many paintings do you have?" It's not corny, it's flattering.
Make 'em laugh
Whether you are flirting in the pub or online, humour is a great icebreaker. If you're the type of person whose humour might be offensive, forget it. You could end up putting your foot in it. But if you are confident, then use it to bring a smile to their face and let them know that you are fun.
Be interested
If you have decided to get in touch with someone, don't rattle on about yourself for paragraphs. It's selfish and won't win you any points. Think of it as an online tennis match. You need to keep the ball bouncing back and forth over the net, just like an ordinary conversation.
Flattery will get you everywhere
Don't be afraid to use compliments to win over your potential mate. Hey, we've all done it! Try not to smother them in syrupy praise but feel free to use flattery. For example, "I've never met anyone who's collected modern art. You sound like a unique and focussed individual."
Take the next step
If you decide that you want to take things further, it's time to talk on the phone. If you decide that it's time to hear a voice, just ask. For example, "I'm intrigued by your paintings. Why don't you give me a call so I can find out more." It really is that easy. Remember to keep safety in mind. Never give out your number if someone asks for it. If you're comfortable with the person, suggest they give you their number and call them.