Don't copy these example profiles. Just use them to get your creative juices flowing!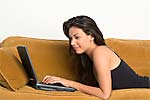 Female seeking Male No paddlers allowed

I'm an advertising executive so I should be good at selling myself… here goes. Like any city girl I work hard but I play even harder. I love to go out on a Saturday night but I'm as equally happy with a quiet night in with a nice glass of red wine and some good company. But that's not all there is to me. I'm in need of someone who has a sense of adventure. Someone who's not afraid to dive into life. The water's deep here, strictly no paddlers allowed. This year so far I've been white water rafting, rock climbing and scuba diving. Anything to get some excitement and a huge adrenalin rush. Fancy joining

me on a trek in Belize next year? I'll try anything once – go on dare me. I've not found the right guy for me yet. You never know, it could be you! For life to begin, it has to start somewhere… Sandy seeks her Danny…

No Greased lightning here though please - I'm a hairdresser! Me in a few words just isn't possible. I'm a complex creature. But here are five tasters to whet your appetite:
i) I'm a Yoga fanatic (and yes, that makes me very flexible) ii) I've got a pet iguana called Rupert
iii) Eddie Izzard is my god
iv) I think that Lenny Kravitz rocks
v) I like nothing more than to dance like no-one is watching
I will keep you on your toes, challenge you to grow, and lift you up when you need a hand. I am completely imperfect and crazy, yet perfectly lovable. I am looking for someone with a similar mentality who has left the fooling around stage behind and is looking for something a bit more serious. If this sounds good to you and you'd like to know some more, you know what you need to do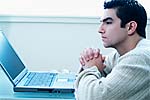 Male seeking Female
Come and watch me play
Why contact me? Life is far too short to waste kissing frogs – try a prince like me for a change. Seriously! I'm a 26-year-old trainee solicitor. I'm outgoing, funny, athletic, agile, witty, cute, sexy, and everything else that makes for a well-rounded young man. I'm rugby-crazy and will let you come along and watch me and the lads play if you're lucky. I can speak Spanish (fluently) and French (better after a glass of wine!). I'd love to meet you if you're a lady with a contagious smile and an infectious laugh. In return you'll get an affectionate, romantic man. I can also give great massages, cook Spanish food like a demon and am fully house trained.
Wanted: a girl that likes to shop!
I can't keep on meeting gin-soaked ladies in pubs, clubs and bars with whom I have nothing at all in common. I'm a retail guru who would like to get to know you properly! I'm fascinated by Mark Rothko (I used to be an artist too... but I'll tell you about that later). Easy Rider is my favourite film, but I'll watch anything and everything. I won't judge you or bore you and I can behave myself when we go shopping! If you're interested in a relationship with a funny, creative and successful guy who will do his best to find a way to make you smile and laugh everyday, then look no further.